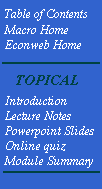 Chapter Ten: Module Summary -- The Fixed Price AD/AS Model
---
The Fixed Price AD/AS model is appropriate for the very short run, or when the economy is in a recessionary gap well below potential output.

Prices in this model are assumed to be fixed. The AS curve is perfectly horizontal at the fixed price level.

When the Aggregate Demand curve shifts in the fixed price model, only output changes, prices are unchanged.

The economy's equilibrium condition can be written as Y = AD, or Y = C + I + G + NX.

The level of consumption is positively related to disposable income, wealth, and expectations of future income. It is negatively related to interest rates.

The equation for the consumption function is: C = Ca + MPC (DI) where C = total consumption; Ca = autonomous consumption, consumption that is independent of the level of income; MPC = marginal propensity to consume, or the change in consumption divided by the change in disposable income; and DI = disposable income.

Since all Disposable Income is either consumed or saved, then the portion of additional disposable income not consumed must be saved. Therefore, MPC + MPS = 1.

The level of investment in positively related to capacity utilization and business confidence. It is negatively related to taxes and interest rates.

In equilibrium, Y = Ca + MPC (DI) + I.
---