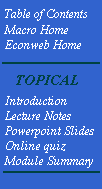 Chapter Eighteen: Module Summary -- Economic Growth and Productivity
---
Economic growth results from an increase in the economy's total output, defined as the annual percentage change in real Gross Domestic Product.

The long-run may be a period of 5, 20, or even 100 years.

Economic growth increases potential output and shifts the Long Run Aggregate Supply curve to the right.

Over long periods of time, even small differences in growth rates can lead to huge differences in living standards.

Using the Rule of 69, one can divide an economy's per capita growth rate into 69 to determine the number of years it takes to double the material standard of living.

Extensive growth is growth due to an increase in resource inputs. Intensive growth is growth due to technological advancements.

Productivity is a measure of the ability of a resource to generate output. Productivity measures help to distinguish between extensive and intensive growth.

Three major productivity measures exist: labor productivity, capital productivity, and multifactor productivity.

Labor productivity is the amount of output produced by a worker with one hour of labor input.

Adding an additional labor hour--holding all else constant--will increase output but decrease labor productivity because of diminishing marginal returns. Usually, all else is not equal.

Labor productivity is procyclical, meaning that it increases during economic booms and decreases during recessions. The positive correlation between labor productivity and the business cycle is mainly due to labor hoarding-retaining more workers than necessary in a downturn.

Over the long term, growth in labor productivity leads to rising real wages. Consequently, wage increases driven by labor productivity growth are not inflationary.

Capital productivity is the amount of output produced by one unit of capital input.

Capital productivity also suffers from diminishing returns, but increases in other inputs and advances in technology lead to rising capital productivity numbers through time.

Multifactor productivity is the amount of output (Y) produced by all factor inputs.

Growth accounting decomposes output growth to its root sources, which include increases in inputs and technological advances. What cannot be accounted for by changes in resources is attributed to a catch-all category called technological change.

Economist Edward Denison found that about half of the U.S. growth between 1929 and 1982 was due to increases in labor and capital inputs; the other half was due to increases in productivity. Of the half due to productivity, about two-thirds of the gain came from advances in knowledge.

Most economists agree that long-run increases in productivity are primarily the result of advances in and applications of knowledge. An invention is an advance in knowledge, while an innovation is the use of that new knowledge to produce a new or improved product.

Investment in research and development, education, and access to information are all important reasons why productivity increases through time.

Perhaps the most important factor that leads to economic growth through time is competition, which fosters the process of creative destruction. This process leads firms to ever-create new and better products that consumers want, which drives other firms that cannot adapt out of business.

Governments can promote economic growth by keeping budgets deficits relatively low, subsidizing education, and encouraging saving and investment.

During the mid-1970s and 1980s, productivity growth declined considerably, possibly due to oil shocks and fierce international competition

Productivity growth recovered somewhat in the 1990s, but it is far too early to tell if the increase is permanent or simply a response to the long business cycle expansion.
---