Temporary expenditures flow through the economy, but they do not have a permanent effect on the equilibrium level of output.
Recall that the multiplier effect is calculated by:

The dynamic impact of the multiplier depends upon whether the change in Aggregate Demand is temporary (a one-time expenditure), or permanent (a permanent period after period increase in Aggregate Demand). For example, if a government repairs a road, the injection into the economy is temporary. When the road is finished, the new government injections into the economy stop. The expenditures on the road will flow through the economy, but they will not continue indefinitely.

On the other hand, the construction of a new public school building or a new jail is more permanent. The government expenditures continue even after construction of the building is completed. New jobs for teachers, staff, and administrators will be created and the government must continue to pay income to these workers year after year. First, we examine the multiplier effect when the initial injection of Aggregate Demand is temporary.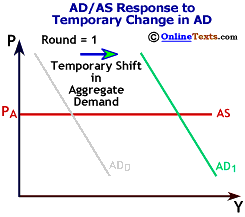 Suppose the government spends $100 to repair an existing road, injecting $100 temporarily into the economy. The multiplier effect occurs over a period of time. Assuming no taxes or imports and an MPC of 0.8, an increase in government expenditures of $100 ultimately increases output by a total of $500, but the increase in output will not occur all at once. As the figure titled "AD/AS Response to Temporary Change in AD" illustrates, initially, AD0 and AS intersect. The one-time $100 increase in Government Expenditures in round 1 shifts the Aggregate Demand curve to the right (AD1). After this expenditure, Government Expenditures decline by $100 because the road repair project is completed. The increase in income from the road improvement increases consumption and output in round 2, but only by 0.8 × $100,or $80. So output is actually $20 lower compared with the previous round. The intersection of AD2 and AS gives the level of output in round 2. The process continues in round 3, and again in round 4. Each time the Aggregate Demand curve shifts to the left. Eventually, the Aggregate Demand curve will exactly overlie the original AD0curve, and the multiplier effect will be completed. A useful analogy is to think of a stone thrown into a still lake. The initial impact makes the biggest splash and then the impact ripples through the water in successively smaller waves. Eventually, the water returns to its initial peaceful condition.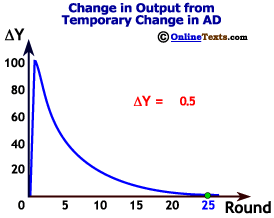 Because of the road repair expenditures, equilibrium output rises, but the impact dampens out over time. The figure titled "Change in Output from Temporary Change in AD" shows the change in equilibrium output in each round. Notice that the change in equilibrium output asymptotically returns to zero.
---