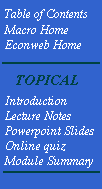 Chapter Five: Module Intro -- Inflation
---
Just hearing the word "inflation" conjures up many negative images to people who can recall the economy in the 1970s and early 1980s. Inflation reached double-digit levels, and many workers' wages could not keep up with the cost of living. Since then, inflation has been mild, normally under 4 percent per year. In fact, in 2003 people were seriously discussing deflation, a sustained decline in the price level. However, memories die hard and many Americans are still very fearful of repeating the 1970s experience.

In this module, we define inflation and track its recent history. We construct a price index, and learn how to use it to calculate inflation rates, and to deflate nominal values to real values.

We recommend that you read the lecture notes first, then test your knowledge by taking the on-line quiz. Review the summary to reinforce what you have learned.
---